Trainer Of The Year - Battersea Cats & Dogs Home
You might be thinking: what the biggest UK rescue centre has to do with trainers competition?
Well, let me tell you all about it!
Trainer Of The Year (aka TOTY) is a yearly competition held at Battersea Cats & Dogs in London, organised by world renowned organisation . Spaces are limited to 20 people. It's a privilege to be there. Why Battersea dogs, not your own dog? Because during the week trainers work with over 50 dogs, help them to overcome anxiety, enrich their days, and hopefully, increase their chances to be rehomed faster.
I was there last week! And I can share the incredible experience with all of you, day by day :-)
Monday - In my opinion, the most stressful day, especially if you are not used to London - you worry if you are at the right metro station, going right direction and if you will make it on time. You don't know what to expect for the whole week and you don't know other trainers (maybe one, if you are lucky!). You don't know what the main challenge will be.
As most events, it starts with general introduction, where you find out everyone are super nice, friendly and have the same worries as you!
Then Battersea Cats & Dogs Home presentation. The rescue was established in 1860 by Mary as the Temporary Home for Lost and Starving Dogs. Times were hard, after the war many people needed help, but Mary focused on hungry and ill animals. She did an incredibly amazing job and changed community view on stray dogs and cats. She raised the awareness nearly 160 years ago and thanks to her, continuously thousands of pets are getting all the help they need.
Battersea is an open organisation which means they take all dogs and cats, no matter the circumstances. Their motto is: "We aim never to turn away a dog or cat in need of our help".
'Picking dogs' time - through a fun games we were paired with 3 dogs for the week. I had a Shar-Pei called Jada; young Labrador cross called Buddy and Staffie called Baby.
Next stage: Tour around and meeting the dogs!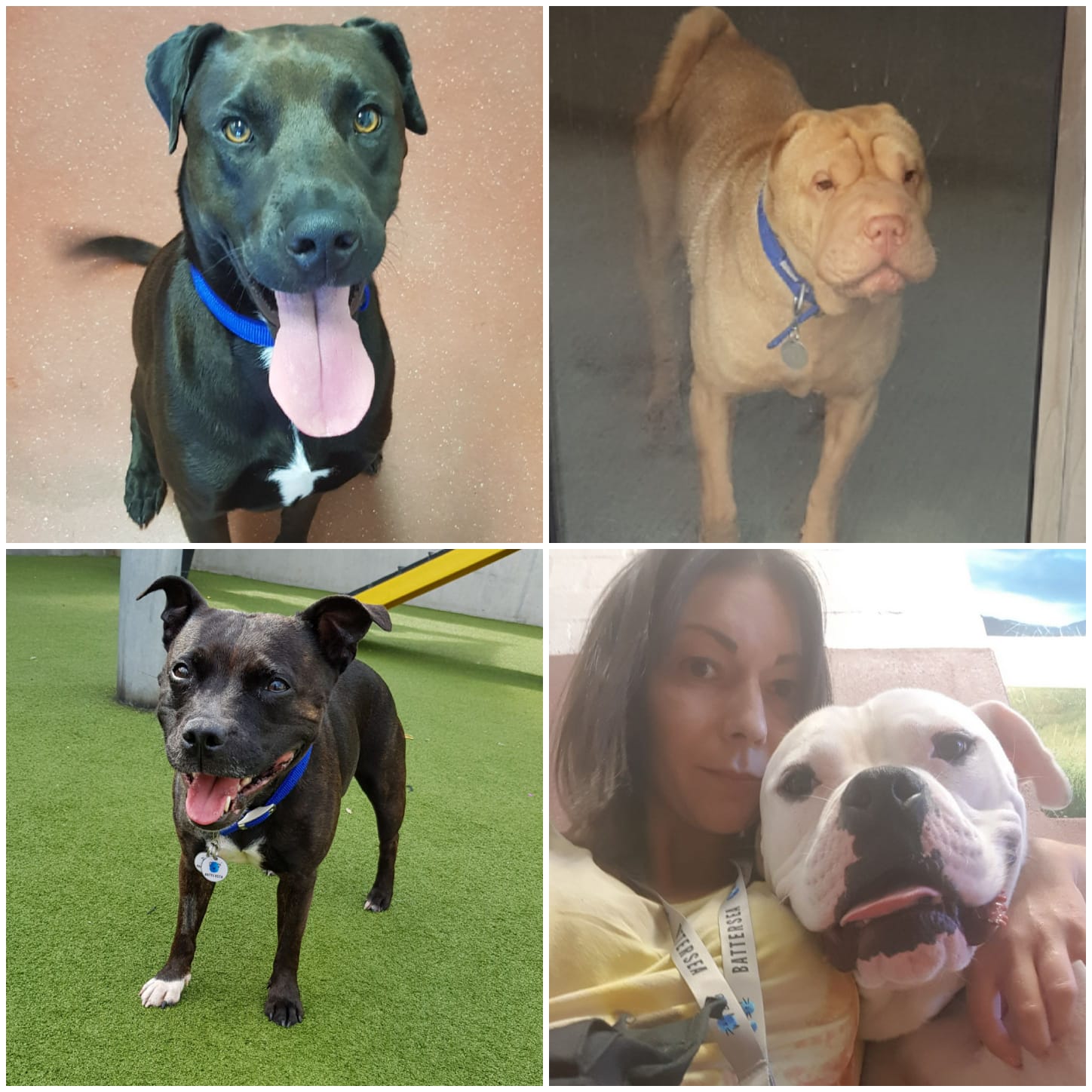 During the tour we were taken everywhere! For the week we were treated as normal staff and we had a full access to the whole place, so it was important we knew all rules in different parts of kennels etc.
And finally, we could go and train our dogs.
Jada was very shy and I had to be introduced to her slowly. Buddy can be nervous around people, but he was very bouncy and cuddly around me. Unfortunately, I haven't met Baby as she was at foster home for a day.
To finish the day and break ice we all went for a dinner.
The main challenge was to cue a dog from outside the kennel using a word 'bananas'. The dog should go on a mat, lie down in a settle position (hip down, not sphinx type down). Then a trainer enters the kennel, put a bowl full of food right in front of the dog. Trainer leaves the kennel, dog must stay in original position. From outside the kennel dog will hear a 'free' cue and will go to eat their dinner.
The challenge wasn't easy, specially in such a busy and unnatural environment. Getting dogs to focus for more than 20 seconds was a challenge itself!
Day 2 Tuesday
Training dogs and learning, training and learning, training, training, more training and learning. Literally, the day was full of dog training, so pub visit after was the best choice!
During day 2, 3 and 4 we also had daily challenges and we could voluntary take a part.
Tuesday challenge was teaching a dog 'bow' position.
How were my dogs doing?
I have managed to teach Buddy to bow :-D
Jada - she recently had eyes operation and I think she was a bit depressed, she was not really interested in training but she liked her food, so I started teaching her going on a mat. The progress was slow.
Baby - I have to be totally honest, until that day I though Staffies are boring. All Staffies I met before were just couch potatoes. I was not expecting much from her. But I took a part in the competition to see what it's like to work with different dogs and understand kennel environment from inside. I went there to have fun and help dogs as much as possible. Wasn't even thinking about winning the TOTY competition. So, I went to meet Baby. When I found her cage, she was just standing there quietly, looking at me and wagging her tail. Well, typical Staffie… I politely said hello, took a mat and started training. WOW! She was good! Clever, fast thinking but not silly, literally bombproof - I could train her for hours and she would be happy, totally not bothered by the noisy environment, absolutely focused on me and the job. During sessions breaks we had lots of cuddles. I couldn't wait to come back on Wednesday and progress with the training, she was a winner!
Day 3 Wednesday
Baby was taken for an operation, I was told she will come back in the afternoon. I knew after general anaesthesia I won't be able to do much with her, so I have decided to focus on the other dogs.
Daily challenge - Clipping dog's lead on while they offer chin target.
I could not do the daily challenge with Jada as she didn't like being touched around her face. We have tried to do more training for the main challenge, but she would not lie down. At this point I knew I had no chance winning the big challenge with her. The kennel environment and sore eyes were not doing her any favors. I believe once she finds her forever home, she will be more relaxed and happy to engage with people :-)
So Baby wasn't there, Jada was not progressing. I had to decide if I want to work with Buddy on daily exercise or push him a bit and try for the final challenge. I have re-wrote his plan and we started from scratch - lots of focus and confidence games to help him ignore the environment. I have started building a relationship with him and we had a good day :-)
During the day we had to ditch one dog. This wasn't hard decision, but it was a shame I won't spend so much time with Jada any more. I could still go and visit her.
At the end of the day, we had to decide which dog we are choosing for final exercise. Well, so far, out of 3 days I have only spent 1 with Baby, but I knew she could do it. It was a risky move and I was ready for it. We both were!
So, I have ditched Budy too :-(
Baby was struggling after the op and she was kept at the clinic overnight. In theory, by the end of the day I had no dog….
Yes, I was in tears for many reasons that day.
Day 4 Thursday
Daily challenge - teaching a dog to walk back.
Still no Baby. I could choose a different dog for a day and I have decided to try Ace - 11 month old boxer cross. For those who know me, that shouldn't be a surprise - boxers are my thing!
Ace is super handsome, very energetic boy, to a point where he is loosing his ability to think and he humps…a lot…The kennel staff told me they were not able to go to his kennel to play with him or have cuddles, because he was getting over aroused very quickly and would not stop humping. But he needed human interaction, so I have decided to work a bit on calmness with him. I have entered the daily challenge with Ace and we were second!
Even better - I wasn't humped even once hahaha. We did a lot that day: trained, played, had cuddles, selfies and received many positive comments about his behaviour.
If I would have him from Monday, we would stand a chance in the main challenge, but it was Thursday and I was too far behind other trainers.
Before I left for the day I have decided to check (like 100th time that day) if Baby is back. She was in her kennel. In pain, sad and sorry for herself. She had 4 lumps removed and has been spayed. I was happy to see her, but I felt it would be unfair to make her training a lot next day. Pub time again!
Day 5 The Final!
Gosh, the week went so fast!
Training and judging mainly happen that day. Some dogs were tired after intensive training for a full week. Many trainer were helping each other that day. It was a competition, but there was no competing atmosphere, no fights, no pride, no arrogance. There is a popular saying in dog trainers world: you put 3 dog trainers in a room and the only thing the 2 of them will agree, is that the 3rd one is wrong.
I'm pleased to say we were not that type of trainers. We supported each other the whole week and I truly believe we will stay friends.
In the morning we were given judging times. I was last because I haven't had much training opportunities with my star dog during the week. There was no daily challenge that day, not much learning. The goal was: use your time wisely and polish what you have been working on all week.
My goal was to visit all dogs I have been working with, make sure they have some fun with me and not to cry at the end of the day. Well, I have cried a lot!
First, I went to see how Baby was feeling. She gave me the best welcome kisses and was ready to train! I was amazed, if not the scars and bruises, you wouldn't say she was recovering from an operation. We have managed to put all pieces together and she could do the whole exercise! I'm still amazed when I think about it now. Just before lunch a volunteer came to take her for a walk, so I went with him. We took Baby to a paddock, where for a first time we have played together. On a way back to the kennel she has ignored all dogs and people, the volunteer was holding her lead, but she was right next to me. When I've stopped to talk to someone she stopped too and waited for me. Yes, I fell in love.
I have decided to do the final challenge earlier as we have progressed so much in the morning, I didn't want to 'over-do' her, I had to bare in mind, as much as she tried to be best for me, she was recovering from a surgery.
During the test she did beautifully everything I asked her to do. We have received lots of positive comments.
Achieving such a great result in a short time is my biggest carrier win so far.
We didn't win the competition, we had no time to add shiny bits to the exercise, but it doesn't matter - I won something more important: a privilege of spending time with Baby.
By the end of the day, I have managed to spend some chilling time with Baby, Buddy, Ace and Jada.
Huge congratulations to Natalie who took the trophy home. Her performance was spot on!
To summarise the whole week, I can say Battersea really help dogs. The kennels are clean, dogs have their own space, lots of enrichment toys, many volunteers visiting them, great medical support and general dogs needs are met individually. People that work there are kind, carrying and they do their job with passion. If you are thinking about supporting a charity or adopting a dog or a cat Battersea Cats And Dogs Home is the place!
From personal prospective, it was an emotional roller coaster. I had to challenge myself as a dog trainer and a human being.
It was hard but amazing week. I can't wait to go back next year!